To make a solid plan for the short term, it's important to keep an eye on where you're heading in the long term. Nobody can say with 100% certainty what the future of marketing will look like, but industry professionals can offer useful insights and predictions into some of the possibilities that might be available in the coming years.
Of course, there's no guarantee that these predictions will come true. As marketers, it's important for us to keep an eye on statistics, research, and trends in data to spot opportunities. But make sure there's plenty of room to adapt and change in your marketing strategy.
For example, nobody could have predicted how 2020 would change the face of marketing. Those who meticulously planned out their marketing activities based on what they knew at the start of the year found themselves needing to scrap their plan and start from scratch.
But some things are certain. The future of marketing and business will be more diverse, inclusive, and connected to real customer needs. It will not be about spending more on blatant self-promotion to out-dated notions that no longer fit the reality of the world we live in.
So let's check out these 5 trends for the future of marketing in 2020.
1. Generation Z Will Influence Marketing More than Millennials
The marketing industry has been obsessed with Millennials for the past two decades. In fact, a Google search currently yields around 129 million results for the search term "millennials", compared to only around 7.2 million for the previous "generation x".
But the millennials of today have outgrown their caricature as a bunch of entitled 20-somethings. The first millennials are now approaching their 40th birthday. While this age group still makes up a significant proportion of the audience of many marketers, some predictions made about their importance have fallen short of the mark.
For example, the oft-quoted statistic that Millennials will make up 75% of the workforce by 2025 is now not only unlikely but rather impossible.
It's 2020 and Millennials have already peaked as a percentage of the adult population, making up just over 40% of the global population. By 2030 this percentage is expected to drop to just under 37% as Generation Z starts to come of age.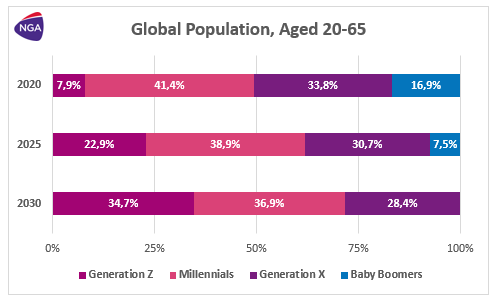 Generation Z consists of people who were born from 1995 to 2010. These young people have grown up in a digital world and have very different viewpoints than generations that came before them. They're also more diverse than any other generation in history.
A more diverse audience can make content marketing challenging, but it also opens up more opportunities to reach different segments of that audience through personalization.
If you've been focusing your marketing strategy on Millennials, it may be time to take a step back and come up with some new ideas for reaching the workforce and decision-makers of tomorrow.
2. Growth in Emerging Markets Means a More Diverse Audience
Emerging markets in Asia have grown significantly over the last decade and are expected to continue to grow over the next ten years.
Over a billion new middle-class consumers from countries like China, India, and Indonesia will be added to the global pool of consumers.
Companies that want to expand their marketing efforts beyond North America and reach these new consumers will have to think carefully about how best to reach them.
Different cultures, languages, social norms, and online behaviors can all make marketing a challenge when it comes to creating content for these audiences.
For large global enterprises, having a local on-the-ground marketing team in their main market locations is often the answer.
But smaller businesses can market globally too. The key to success is embracing diversity from the inside. Companies that strive for a diverse workforce and corporate culture will find that marketing innovation flourishes naturally.
3. Integrated Online-Offline Customer Experience
Physical stores with little online presence have been struggling more in recent years. For many businesses, the 2020 pandemic proved the final nail in the coffin, with the last six months seeing an unprecedented number of store closures.
Conversely, many online retailers and digital brands have thrived. Massive numbers of consumers have shifted to moving more and more of their purchases and everyday activities online.
However, physical stores are not doomed to become a relic of the past. Consumers still prefer physical stores. But brands must adjust their marketing strategy to take advantage of this increased digitalization.
In the future, stores will be more than just a place to do your shopping. They will be a place where brands can really engage with their customers and improve the customer experience.
Moreover, VR and AR technologies will bring more of the shopping experience to the home, improving the online shopping experience. Ikea already has an augmented reality app that allows customers to see items of furniture in their own home and several fashion brands have launched apps enabling shoppers to virtually try on clothing before they buy.
More and more brands are jumping onto this trend. For example, Nike has launched a number of "retail experiences" in recent years including terminals with product information and online ordering functionality, integration with customer smartphones, social media walls, interactive augmented reality installations, and more.
4. A Move Toward More Responsible Consumerism
Today's consumers are more aware than ever before of the effect their buying habits have on the environment and society.
People are taking more care over the products they choose to buy and the brands they choose to associate with.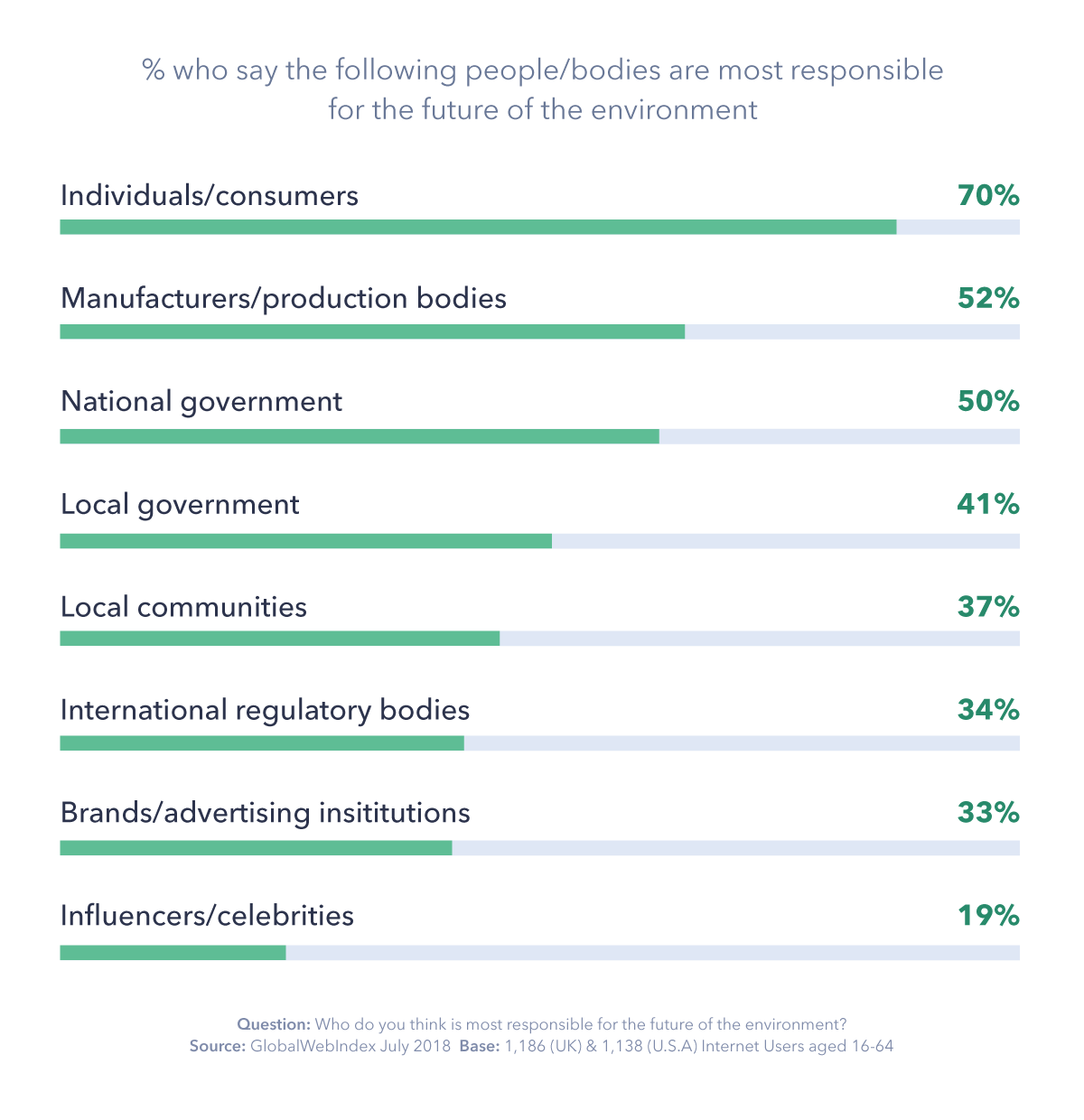 Many brands have already been making a move toward more sustainable practices to reduce their impact on the environment. However, social responsibility is becoming just as important as being "green".
As we saw with the rise of the Black Lives Matter movement, people are no longer just expecting the brands they support to avoid harmful practices. It's now expected that corporations will actively fight injustice and support the causes they believe in.
In the near future brands will be expected to be ethical in all of their business practices and use their resources to be a force for good in the world. Those that don't will be left behind as customers choose brands that align with their own values.
Brand responsibility goes beyond marketing. But marketing the things that a company is doing to make a positive difference in the world may end up being more effective than advertising its products.
5. The Internet of Everything
In 2020 the Internet of Things (IoT) has already made significant changes in how consumers interact with brands.
Over the next decade, this trend will ramp up even more as it becomes the norm for everyday devices to be connected to the internet.
Smartphones, smartwatches, and smart TVs are already commonplace. The technology is becoming smaller and cheaper all the time. In the not-too-distant future, it's likely that almost every electronic device will be "smart" in some way. Even more striking, smart microchips are already being implanted in humans.
Smart cities – urban areas that use IoT technology to manage resources and services – are also on the rise globally. It's estimated that by 2025, the top 600 smart cities will account for 60% of the world's GDP.
This massive number of connected objects will generate a huge quantity of data that can be used to gain advanced customer insights. This information can then be used to personalize the customer experience and provide easier communication and engagement with the brand.
6. Hyper-local Marketing
Along with the growth of IoT devices and increased expectation for personalized customer experience comes increased used of geolocation data in marketing.
Local marketing is certainly not a new concept. Even the largest global brands recognize the value of customizing their marketing messages on a local level. And search engines like Google have become very good at serving up businesses in the local area whether you're looking for a coffee or a new pair of shoes.
But geolocation services are due to step things up a notch. Eight in 10 marketers currently use location data in their marketing strategy and 94% plan to do so in the future.
Now that everyone has a smartphone, potential customers can be targeted with marketing messages as soon as they're detected to be within a certain distance from a store.
Geofencing means that brands can deliver personalized messages to a very small set of individuals who are more likely to buy (location-based marketing has been found to be 20x more effective than standard ads.) This reduces marketing spend. Budget is not wasted on prospects who are less likely to result in a sale.
Combining geolocation and IoT technology means some very sophisticated and personalized marketing is possible. For example, a customer could get a reminder that they're running low on eggs as they're passing close to the grocery store.
Summing Up
While marketing trends come and go, the basics of success remain the same: understand the needs of your audience and communicate with them clearly and consistently. That's why customer-focused content has always been the best way to establish solid relationships with your audience.
So if you are ready to get more traffic to your site with quality content published consistently, check out our Content Builder Service. Set up a quick consultation, and I'll send you a free PDF version of my books. Get started today–and generate more traffic and leads for your business.